Tennessee Self Directed IRA LLC with Checkbook Control
A Tennessee Self Directed IRA LLC with Checkbook Control allows you to use your IRA and rollover 401k funds to make almost any type of investment such as real estate (including international real estate), tax liens, mortgages and trust deeds, precious metals, private equity, private lending and many other alternative investments without requiring the permission of your custodian.
State filing fees: $308.25
Annual requirements:
A business* is required to file an annual report with the Secretary of State's office on or before the first day of the fourth month following the close of the business' fiscal year. This report contains basic information about the business, including the business' office address, registered agent and registered office, and officers/directors/managers; it does not contain any financial information.
A preprinted annual report form is generated by Tennessee's Secretary of State during, or in the month following, the FYC (Fiscal Year Closing) month of record, and is mailed to the principal office mailing address of record. The form is preprinted with current information of record for the business.
The annual report fee for corporations is $20; however, there is an additional $20 charge if you change the registered agent at that time. For LLCs, the state requires a minimum fee of $300 ($50 per member with a $3,000 maximum charge).
Self Directed IRA LLC VIP Plan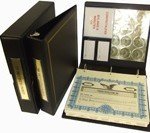 Includes:
Setup the LLC in Tennessee*
Prepare and File the Articles of Organization with the State
Provide a Customized Self Directed IRA LLC Operating Agreement
Provide the LLC Record Book including Membership Certificates, Minutes, Seals, Transfer Ledger and Binder
Obtain the EIN from the IRS
Co-ordinate setup with an IRS approved Custodian**
24/7 Online Customer Support
Toll Free Phone Support
*Plus State Filing Fee** Plus Custodian Fees
We handle all the details to

quickly, efficiently , and economically

set up your Self Directed IRA LLC with Checkbook Control
Simply choose a name for your LLC (i.e. XYZ Investments LLC….ABC Holdings LLC)
and call the Toll Free number below…Call now for free name check

Call Now…We Make it Simple
1-800-936-0872


Office Hours
9am – 5pm PST Monday-Friday
After normal business hours please